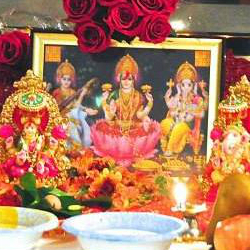 The Hindu Student Sangam was established over 25 years ago at the University of Chicago to provide members of the University of Chicago community who are Hindu, or interested in learning more about Hinduism, an environment to practice, worship, and discuss topics pertaining to Hinduism and Indian philosophy.
We meet every Tuesday at 7pm in Rockefeller Chapel's Hindu Prayer Room for bhajans (devotional songs) and discussion. The Hindu Prayer Room is located in the Interreligious Center in the basement of Rockfeller Chapel (Room 021; refer to the Contact Us page to locate the Chapel on a map). The room is open daily for individual and group worship and contains a quiet space for meditation. The room also contains a library of Hindu texts which Sangam members can borrow.
We start each of our meetings with shlokas and bhajans (devotional songs) from our bhajan book (which can be found in the Other Resources page). We then have a special activity for about half an hour; these activities range from meditating to reading sections from Hindu texts to discussing topics in Hinduism. The schedule of activities for the upcoming quarter can be found in the Schedule page. We then conclude our session with Aarti.
Anyone, regardless of their religious background, is welcome to come to our meetings! We maintain a very casual atmosphere during our small-group meetings where everyone can choose the bhajans we sing, sing as much or as little as they want, and participate freely in discussions.
Events
Diwali (Wednesday, November 11th 2015)
Diwali (Deepawali) commemorates the return of Lord Rama to his kingdom of Ayodhya after 14 years of exile. To celebrate Rama's return, people lit diyas (small lamps) in the city and this tradition gives Diwali its nickname, the "Festival of Lights." The lights symbolize the triumph of light over darkness and good over evil and people celebrate Diwali today by lighting diyas and watching fireworks. People also worship Goddess Lakshmi, the Hindu goddess of wealth and prosperity as part of this tradition. The Sangam collaborates with SASA and the Office of Spiritual life to celebrate this occassion with a puja (worship ceremony) to Goddess Lakshmi in Rockefeller Chapel, followed by an evening of dance and music with an Indian dinner in Hutchinson Commons.
Holi (Late Spring)
Holi is the Hindu Festival of Colors. On this holiday, people of all ages throw water and colored powder at each other in a celebration of the death of the mythical demoness Holika and the beginning of spring. UChicago's Holi celebration, a collaboration between the Sangam, SASA, and the Spiritual Life Office, takes place on the Quad. We give out free t-shirts and then give you colored powder to throw at your friends. Indian food and Bollywood music are part of the celebration!
Temple Visits
We make group day trips to various Hindu temples in the Chicagoland area such as the Shivalaya Hindu Cultural Center downtown and the Hindu Temple of Greater Chicago (Lemont Temple). We're always looking for drivers so please let us know if you have a car and would like to lead a temple visit!

Other Hindu Holidays
While Diwali and Holi are currently the only two Hindu holidays for which we hold large community-wide celebrations, we hold smaller pujas at our weekly meetings for other Hindu festivals during the year, such as Shivaratri and Sankranti. A calendar all of the Hindu festivals in the 2015-2016 school year is available under the Other Resources tab.